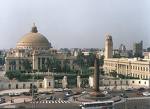 The Geology Department of Cairo University is grateful to invite scientists and researchers to congregate in the Cairo University campus for the eleventh International Conference on the Geology of the Arab World (GAW 11).
This conference, being the most reputable geological conference in Egypt, brings together leading researchers and scientists in the domain of interest from around the world. The principal purpose of the 11th copy of this conference is to shed light on the new and innovative topics in geology and related sciences in the Arab world. ..:: Read More ::..
:: Call for papers ::
Researchers interested to attend the conference should fill out the attached registration form. Contributors wishing to make oral or poster presentations are requested to submit an electronic English copy (American English) of their abstracts by February 15th 2014. The language of the oral presentations is English and French. Abstracts and registration forms should be electronically mailed to aliabdelmotelib@yahoo.com , aliabdelmotelib@cu.edu.eg.